Post #1
Well some of you may be interested (some of you wont!) in an update on what's going on with my 106 Rallye track car.
You may have seen it in its previous guise out on track before. It started life over 3 years ago as a standard S2 8v Rallye. Having driven jimmy_boy and dhampton's 106 16v previously, I knew it was the perfect replacement for my GTi6 on track so I didn't waste any time in modifying it. 16v engine went in, rollcage and seats, KoniSport suspension and GTi6 brakes.
The week I first got her
And after 16v and track prepping
I enjoyed it like that for quite a while before getting bored of the weaknesses of the 106; particularly its top-end power and lack of traction out of the tight and twisties. After deliberating over my pennies, I eventually bought a set of fairly mild Catcams along with KMS engine management and a Quaife ATB. That sorted out many of the frustrations and I ran it like that for another year or so. It was rolling roaded at around 160bhp at the fly which translated to a good balance of power and handling on track. However, yet again I got bored and couldn't decide what to do.
With all the work Rich has put into developing the SC kit for the 306, and the rest of you who are all going down the boost route, I pretty much decided that I'd have to do the same to keep up with you all! GMC Motorsport pretty much have the market cornered on the TU kits, although Wayne Schofield is developing a similar kit I believe. Anyway, the big dilemma for me was determining what i actually needed. I was worried that there were hidden costs that I couldn't expect up front, not least things like the mapping so I went down the route of buying a complete "working" car on the theory that at least the cost was known.
In possibly the worst decision I made, I bought a well-known supercharged Saxo from one of the SSC members - featured in a couple of mags (in fact, the same PFC edition as mine and Dave's Rallye!). The big difficulty with a car like that is putting a value on it. In retrospect, I paid considerably over the odds considering that it meant doubling up on a few things I already had (KMS, Quaife box, the engine itself) and the fact that I ended up covering a lot of the very problems I was trying to avoid.
Anyway, here's the Saxo as I bought it
And the important bit!
Anyway, once I got the car, I couldn't resist a quick last minute trackday at Cadwell Park. Even though the Saxo was a similar spec to my Rallye, it felt quite different on track - different suspension, different tyres and power steering, not to mention the boost! Because the power is so progressive I found it really hard to detect a discernable difference to my cammed 16v in the Rallye.
At one point I was following what I thought was an Mi16 205. That would typically have been about the same pace as my Rallye, so I figured if I was quicker then it was a sign of the extra power.... I can't begin to tell you how gutted I was when he was gradulally edging away down the straights! I breathed a sigh of relief talking to him in the paddock later, when I discovered it was carrying a T16 engine!
Cadwell Park trackday
Following the Turbo'd 205
Anyway, I didn't get much more running that day, as about half way through the day the aux belt tensioner driving the supercharger decided to dismantle itself. The belt must have jumped and then reseated itself on the inner race which stayed on the block. I limped back to the pits fearing the worst and was kind of relieved when it was something so simple with no further damage. Although when it happens less than 50 miles after buying the car it makes you wonder!
Picking up the broken bits!
The one that got away
And the bit that didn't!
My 1st priority, as was always the plan, was to remove the engine from the Saxo and get it shifted on as quick as possible. I managed to do the majority of the mechnicals in one day; removed the engine and box from the Saxo, replaced them with a spare std 16v that I had from Taz's track Saxo that I broke (which was going to be my base engine for my own project).
Engine out of Saxo
Standard engine back in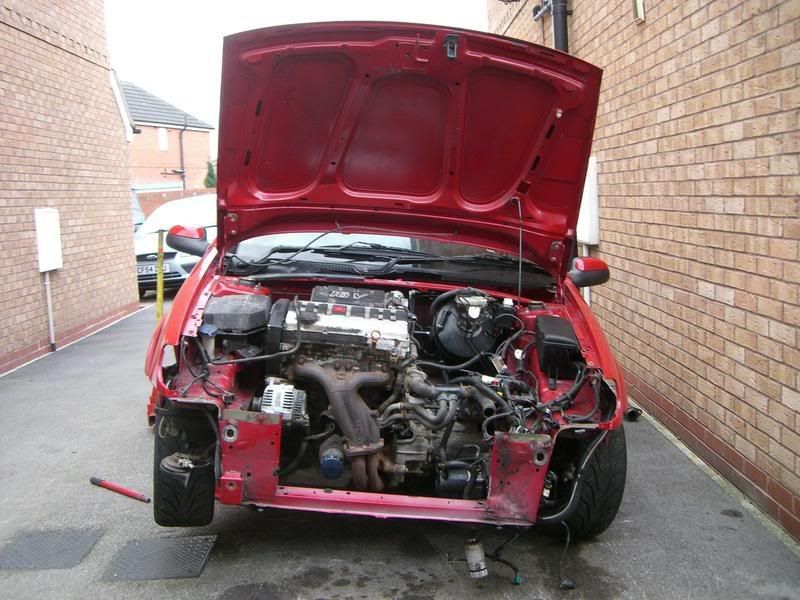 The biggest issue was the wiring. The loom on the supercharged engine was a hybrid of a late style VTS loom (3 plug ECU i guess) and a KMS loom.
It didn't take long to realise there was no saving it in its current state; no way that was ever going to run a standard engine again! Not helped by the fact the previous owner had gone a little overboard covering everything in 3kms of red insulation tape - clearly to cover up their abominable wiring efforts!
Our only other option was to use the loom that had belonged to the donor engine - in some ways easier hooking it up to the engine it came off as all the sensors were correct, but complicated as Citroen had changed the body-engine loom connector between phases.
The only feasible solution was to completely swap all the looms for the original Mk 1s that I had. It took a while to swap it all over, but I'm glad we did it properly and left the new owner with pretty much a standard car.
Special needs wiring!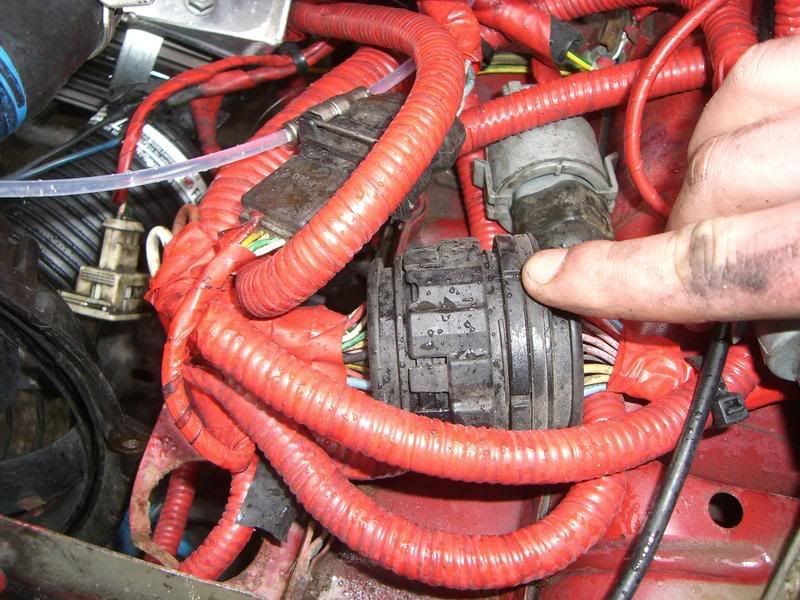 Main 12v permanent live supply from the battery!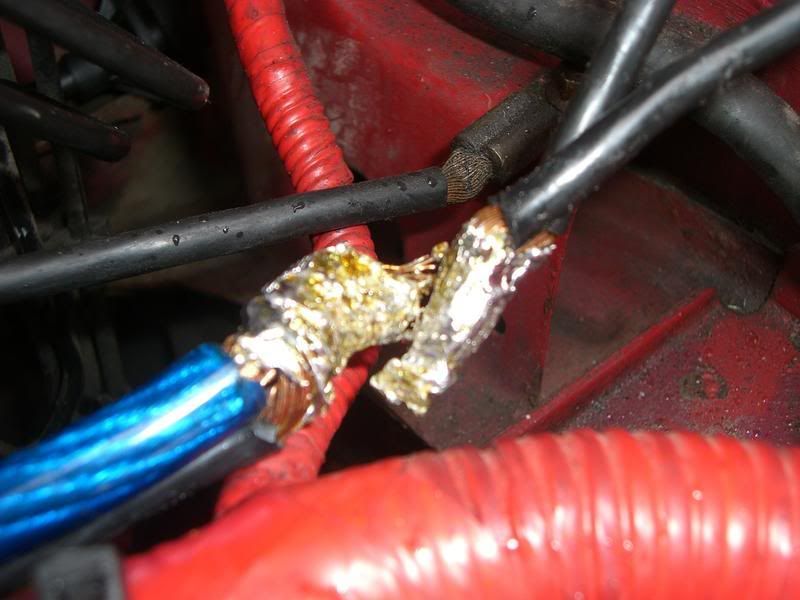 I made a few other changes in the interior too. The Saxo had a custom flocked dash which would have looked ridiculous without any of the guages in it. So again I swapped that back to the standard dash from my 'spare' Saxo and wired back up all the standard switchgear.
I also swapped the seats with a friend who really wanted the wrap round Evos and replaced them with his equivalent normal ones. I contemplated putting a heater matrix back in the car too as I did have a spare but it looked as though all the standard bulkhead openings had been fibreglassed over to keep them watertight and I really didn't fancy trying to hack my way through that.
I also swapped the Hi-spec 4-pot brakes over, replacing them with a set of GTi6 ones with some spare DS2500 pads. After a few bits of cosmetic tweakery, some chicken wire on the front bumper, removal of the chav rear lights it was ready to sell.
It took a little while, and a couple of attempts at photography, to get any genuine interest (had a lot of timewasters though!) but I was really chuffed with the end result. For a while, I considered keeping the car and maybe leaving it over in Germany. It was worth so much more than the money I was selling it for, but I just couldn't justify it in the end.
It ended up going to a couple of chaps from Hull who were looking for something cheaper to use on track than their Scoobs. I believe WhiteRallye's boss knows them, and sent me a pic of their latest mods. I have to say, I quite like it!
Original flocked dash
Standard dash swapped back in
For sale!
I think the new owners liked the odd decal or two!
Anyway, with the Saxo gone, I was ready to start on my Rallye. First priority was to tidy up the interior and engine bay a bit. Both had begun to show signs of age having had the engine in and out so many times over 3 years and with no protection for the footwells.
After sanding them back and removing all the weird tar-y shit that Peugeot put down in the footwell, it didn't take long to respray them (well, technically it took 2 attempts since Halford's definition of Indigo Blue is completely different to Peugeot's!).
Masked up engine bay
And interior...
And all painted up (and a bit too shiny!)
I also took the opportunity to make a few other mods before putting the engine in. Firstly, I'd had a few problems with the rear brake compensator valve in the past, every now and then sticking at random, giving me far too much braking to the rear and making the back end very lairy. I figured it was as good a time as any to stick a bias valve in so had to run new brake lines from the master cylinder down to the rear calipers.
The other problem affecting the Saxo very badly was fuel starvation. Even though it had an uprated in-tank pump, it seemed that on anything less than about ½ tank, the sloshing around meant it just couldn't pick up enough fuel. I bought a 2nd hand set swirlpot and braided line setup from one of the 106 Rallye chaps, along with a 2nd external pump and filter from Tweeks.
It took a little bit of thinking to route the fuel lines down the car so they were away from any exhaust tunnel heat and any wandering feet and I ended up running through into the scuttle tray where I mounted the filter. The other issue was switching from the -6 JIC fittings used for the braided lines to the standard push/clip fittings used on the plastic fuel rail. After a few failed attempts, i managed to find reducing unions the right size and got it all to work.
The only other big change inside was the wiring. I wanted to use the display guages that the Saxo originally had, a KMS AFR display, a separate Alpha lambda display (driven by a separate sensor - a good sanity check) and the mechanical boost guage.
Unfortunately, the Rallye dash doesn't really have much space for that, so I chose to remake the centre panel. I also wanted to wire up a separate switch for the fuel pump circuit (since the KMS runs it all the time the ignition is on) and a fan override to allow greater control over the engine bay temps.
Once I figured out the wiring layout, those weren't that difficult at all. The harder problems were 'simple' features that I needed to keep in case I wanted to MoT the car - particularly the hazard switch. I don't know if you've ever looked but the switch has 8 pins and does far more than just turn the lights on and off! Took quite a bit of time to figure it out and make it work on a simple 2-pin on-off switch. I had a similar problem with the heated screen (which used a timer relay by default and turned itself off) and the 4-way interior fan rotary switch.
Finally, Anyway, quite chuffed with the end result. Probably the hardest thing was cutting the carbon fibre sheet for it all to sit in, and then working out how to mount things!
Custom dash
So with the interior pretty much sorted, the brakes, fuel and interior wiring done, all that was left was the engine. I got a replacement aux belt tension from GMC (a rather complicated piece of kit, with the tensioning done by hyraulics!) and took the opportunity to replace the idler pulley which seemed to have some play in it too at the same time (a mistake, as the brand new one had the same amount of play!).
It took a while to find a belt the right length and to get it all tensioned up well but eventually had that all sorted and dropped the engine in as quickly as it had come out. We were getting close now but there were a couple of problems to overcome; firstly, the physical logistics of getting the front end back on.
Engine back in
It appears in PSAs infinite wisdom that they made the front end of the 106 and Saxos surprising different behind all the plastic. Firstly, the crossmember (on which the intercooler and rad sit) actually seems a little higher on the 106 and secondly the greater curve on the front of the bonnet means there's much less clearance underneath it. Sean's favourite bit of the project included anglegrinding the hell out of the front slam panel.
Bumper on...
....but with about 2" too little clearance!
After removing quite a lot of the panel, and after a trip back to Demon Tweeks to find a few extra bits of silicon hosing to allow us to reroute the boost pipes, we managed to get the bonnet shut!
Final challenge was the front bumper which, after growing weary and just wanting the front end sorted so I at least stood a chance of making the pre-booked Donington evening trackday for a much needed shakedown, I resorted to hacking apart with a jigsaw. Given the less than precise approach, it actually ended up looking quite alright!
After some bumper hacking
So, the final hurdle; the wiring. Having studied the engine loom that came off the Saxo in close detail there was no way I was running that on my car (bare wires twisted together and covered in insulation, great swathes of unused wires just chopped off and bound together with yet more insulation. Plus I had the reverse problem I'd had with the Saxo - the chassis plugs on my Rallye wouldn't accept the Mk2 engine loom anyway.
To keep things really tidy, I wanted to use the complete standard 16v loom coupled with a KMS adapter (to avoid needing any separate wiring at all). Unfortunately there were a few difference which took quite some figuring out with support from
QEP
. After running a couple of extra wires into the loom we were all ready for the first trial start up.
Embarassingly, it took the majority of a day for 4 of us to try and debug 'starting problems', tracing every wire, output signals from relays and the ECUs, searching for a 5mV leaks through the chassis, only to discover that my new race battery clearly didn't have enough grunt (having not been charged for a while) to turn the engine over quick enough! A set of jump leads and the Avensis towBEAST and she roared into life on the first attempt!
So, having a matter of days earlier declared "i'm not even going to try and make Donington", I was done in time (albeit it came down to the last half hour before leaving!). We loaded the car on the trailer, still with a list of jobs to do when I get there including filling some gearbox oil!
The first couple of laps on the track were probably the most gingerish ones i've ever done but I just wanted to get some heat into everything and see whether everything held.
I pulled back into the pits after three 50% laps to be greeted by plumes of smoke from under the bonnet. Fearing the worst, I grabbed the fire extinguisher, and lifted the bonnet carefully. Fortunately, it just appeared to be fluids burning off heatwrapped manifold; it'd sat in a pool of traction oil for a couple of months in the corner of my garage so not surprising it was saturated! I also noticed that the charger belt had shed a rib in just 3 laps, which I suspected it might - a 6-rib belt on a 5-rib alternator pulley isn't a good combination.
Satisfied there was no major problems, I was just feeling smug when a chap came over and said "looks like there's loads of smoke inside the car"... Panic levels back up again, I noticed that the smoke appeared to be coming from around the top of the fuel pump housing, which turned out to be the ridiculous heatshield (made out of some flammable material!) which covers the fuel tank from the exhaust. The exhaust was sitting possibly a bit high and may even have been touching this. Either way, it was smouldering away red hot about 1" from the fuel tank!
I managed to douse it with water and no damage was done, but that kind of put a dampener on the rest of my evening. I did another couple of outings of 2 laps each, with a little bit more commitment, but I kept coming back in to check the exhaust. From what I could tell, it certainly feels good.
Anyway, the finished product
So, a short list of things to fix - primarily those that involve fire, and it'll be out for its next outing at Croft on 21st June.
After it's bedded down for a few days, the next steps are to stick my Catcams in and see what kind of power it makes then. In retrospect, I'd also probably have gone for a larger charger (if anyone wants to swap a nearly new C30/74 for a /94 let me know!) to give me more flexibility. The previous owner has a RR graph for 251bhp as it stands and the cams should see a reasonable increase I'd hope (judging by the percentage gains they give on an NA engine). I'd also like to get some decent wheels (although to say they've been painted by a 9-year old, the ones that are on it in the pictures are ok). I'll be having to sell my cyclone mountain though, since they won't fit over the Hi-specs.
And after that I really dunno.... Give it a year until I get bored again!
Just as a footnote, I'd also like to publicly thank Sean (smighall), Dave (dhampton) and Rich (E) for their hands on help, along with the ever-wise Mr Walker for his knowledge of boosts, Pete for turning up just in time to encourage me to get the jigsaw out and anyone else who's advised along the way.
Final spec
Engine:
1.6 litre 16v GTi Engine
Omega Forged low compression pistons
490cc Pico injectors
Std cams
Rotrex C30/74 supercharger
Custom 160mm Aluminium crank Pulley
Five rib drive belt
GMC idler and tensioner system
GMC pace front mount Intercooler
GMC pace Aluminium radiator
BTB exhaust manifold, heat wrapped
BTB exhaust system
(wondering what my Supersprint 4-2-1 and Pugsport would be like...!)
Pugsport Sump baffle
Custom enlarged sump +1L
Up rated 11" Spal fan
Mocal Oil cooler for engine oil
Mocal Oil cooler for Supercharger traction oil
Mocal Catch tank on Custom aluminium Bracket
Aluminium Header tank
K&N breather filter
K&N Air filter
KMS ECU and ignition driver
KMS adapter loom
KMS wideband with digital display
3 Bar map sensor
Sytec 255lph external fuel pump
Sytec motorsport filter
AH fabrications swirl pot
Braided fuel hose and -6 Earls fitments
4.5Bar Fuel Pressure regulator
NGKr Spark plugs
Samco blue hoses
Gearbox:
VTR gearbox
Firdanza lightened & balanced flywheel
Helix Cerametalic paddle clutch
Quaife ATB differential
Quaife Gearset
Shot peened and polished internals
Group N Gear linkages
Suspension:
Konisport adjustable dampers all round
Lowered 30mm front and rear
Grp A engine mounts
Wheels and brakes:
Unknown brand wheels
R888 track tyres
Hi-Spec 4 pot calipers
23.8mm master cylinder
285mm vented discs
Braided hoses
Carbone Lorraine RC5 pads
Tilton brake bias valve
Interior:
Resprayed interior (Indigo Blue)
Safety Devices 8-point cage
Sparco Pro2000 seats on Sparco subframes
Sparco 6-point aircraft style harnesses
Sparco 330SN suede wheel
TAZ quickshift
Momo gearknob
Varley Redtop 20 motorsport battery
FIA battery cut-off
Ignition and starter button rewired
Custom carbon fibre dash panel
Custom dash loom
Apexi boost gauge
KMS wideband display
Alpha AFR display
Exterior:
Std exterior
Bumper mods to accommodate coolers
________________________________________
Trackday, trackday, trackday