Post #1
As some of yu know, i like plenty of other people run a dedicated Trackday car. It all started when i had the car as my daily driver some 9 years ago and i became a member of thisr fine forum. I did one Trackday at Donnington and was instantly hooked, unfortunately due to circumstance i only did about 3 trackdays in the first 3 years and then due to leaving my job in the navy, it stopped for some 2 years due to serious financial difficultys born out of taking a job with the promise of swiftly rising through the finacial ranks and it never materialised!
So in the end i dug out my qualifications and threw my CV on the internet in the hope i could pick up a better paid job. It worked and i got a new job back in engineering with the option for overtime at my own discression etc etc. The job enabled me to dig out the pug and get it back on th road. Initially i was just going to get it road legal and sell it, at this point i realised it was going to cost more to get it saleworthy than it was worth. So my wife suggested i keep it as a dedicated Track car, and thre the transformation began.
Over the next few years to the present day the car has kind of evolved, bucket seats, Harnesses and an OMP cage were added. Aset of Avo adjustable dampers and a hybrid ARB to stiffen up the suspension. I then purchased a set of 21mm torsion bars off hovis, thats when the problems started. My beam being 100k miles old had seized torsion bars, so required stripping. I stripped it and puchased the overhaul parts off lukejenks. At this point i had a small windfall in the form of the winner in the grand National which i happened to have £25 on the nose so weighed in with a £550 win! Result!
So a quick phonecall to Martin (CRF450) and my rear arms were sent for machining with 3 degrees negative camber. They returned a week or 2 later and my word what a piece of artwork the machining is, the beam was assembled and fittd to te car with a set of solid beam mounts, orignal items vey nicely welded up by pete_rallye! (Cheers mate top Job!
) i then set abouth the front suspension. A set of spax coilovers off Lotek and a set of spoox topmounts. The spax are soon to be replaced with a set of KW's when finances allow.
The car as it sits now pretty much.
The Handling now sorted i've started to hanker after more power, the problem is i dont have ooodles of excess cash to blow on a charger or anything like that so i decided to put my own skills to the test. Being as i work on engines all day for a living, small ones like this....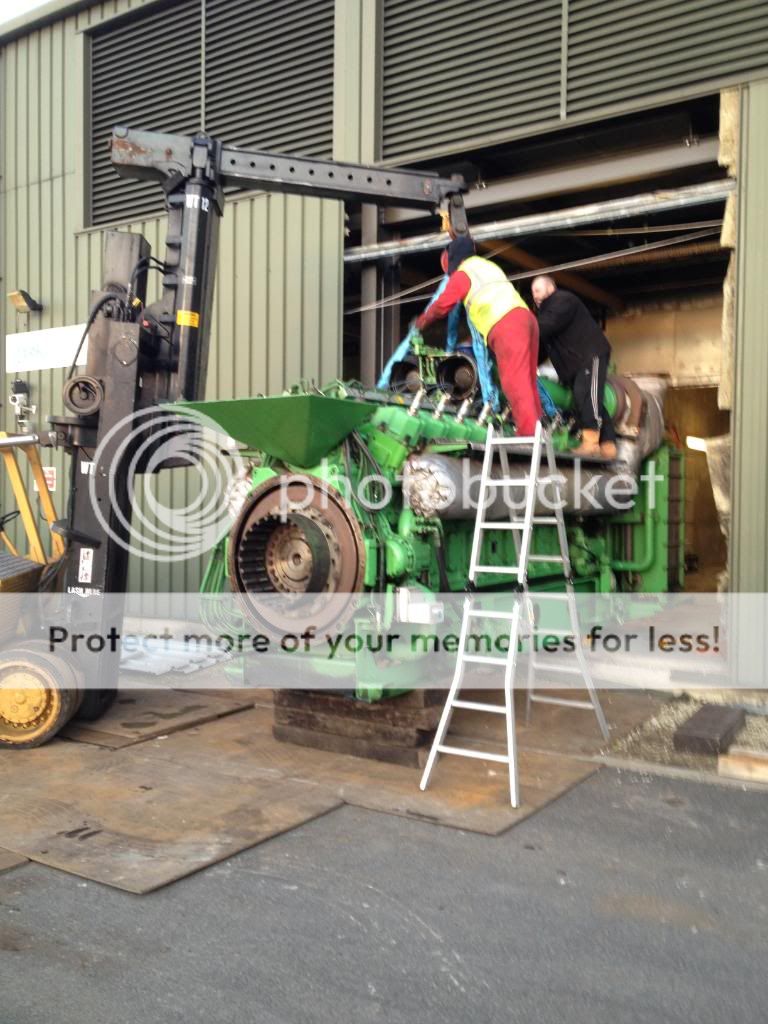 I am doing a build myself, the idea is somewhat of an experiment in that i dont really know if i will actually keep the project within budget and the final power figure is somewhat guesswork at the minute!
The idea is to get the engine over 200 horses within the budget of 1k. I would like to stress that this is another engine not the one from my car as i wanted to keep the car useable!
The engine has been bought in parts, i got the bottom end from here, it is from a snapper but no damage to the pistons or bores bagged me a bottom end ripe for rebuild for £20!
The lad i got it from was going to give it for nothing but when i turned up to collect it was in that good a nick i gave him £20 as i felt guilty! And for that i got this little beauty....
Since buying the bottom end, i purchased a head for £30, this has i believe 2 bent valves in cyl 3 but all will be stripped and checked prior to rebuild. i've bought cam pullies,thermostat housing etc etc, i will compile a list when i get a moment. But up to now the build has cost roughly £400 give or take.
The engine at various stages of stripping,
The engine has been stripped for roughly 18 months whilst i collected all the parts for building it up. About a month ago i recieved the bottom end bearings and gaskets ready for me to start the build properly, so i rang Martin again and sent off my pistons for machining to take a higher lift cam, unfortunately a couple of days later Allen contacted me on here to say there was a problem with one as when they'd machined the cutouts it showed up a crack....
Cue pete_rallye who came to the rescue with a spare piston and rod, pete promptly sent the piston to Martin who machined it double quick and got the set out to me...
Apart from priming the block ready for paint thats about where i'm at, more pictures to follow, hopefully i'll not bore everyone to death but i felt with what i was trying to achieve it was worth writing down on here!
________________________________________
Team
Running Engine again!
Team
Negative Camber!
My Budget track engine build thread!
Now appearing at a Trackday near you!!