Post #1
Tempted to sell the Clio to fund a new 106 Rallye winter build.
Pics and info here-
2005 Black Gold Renault Clio Sport 182 FULL Fat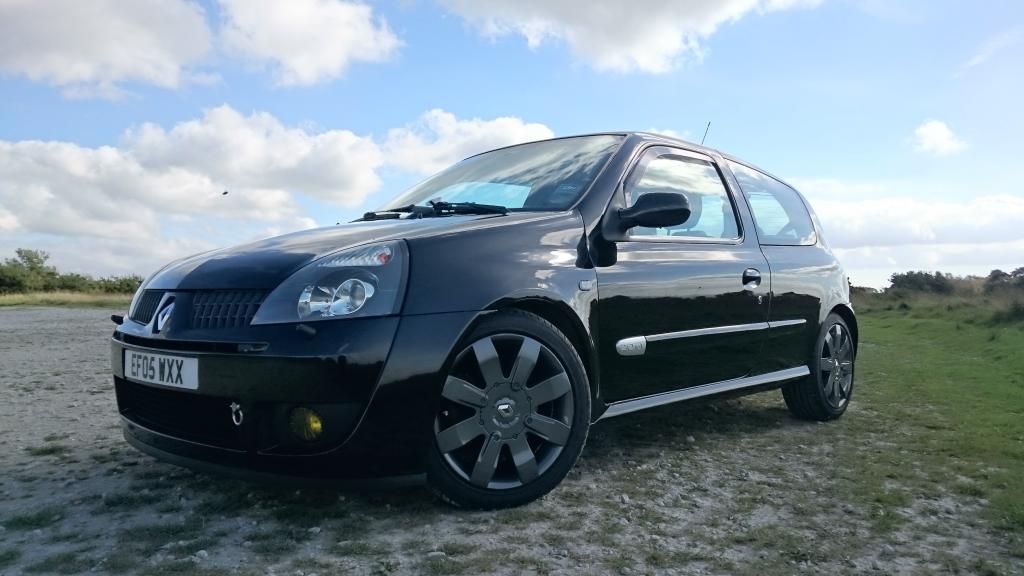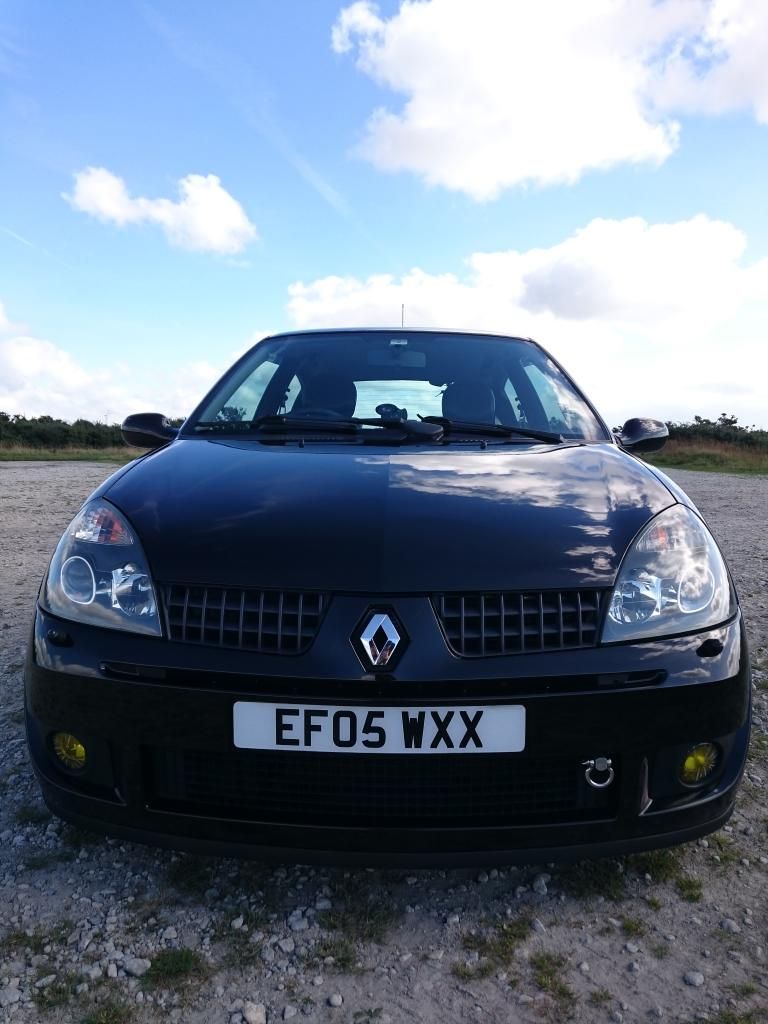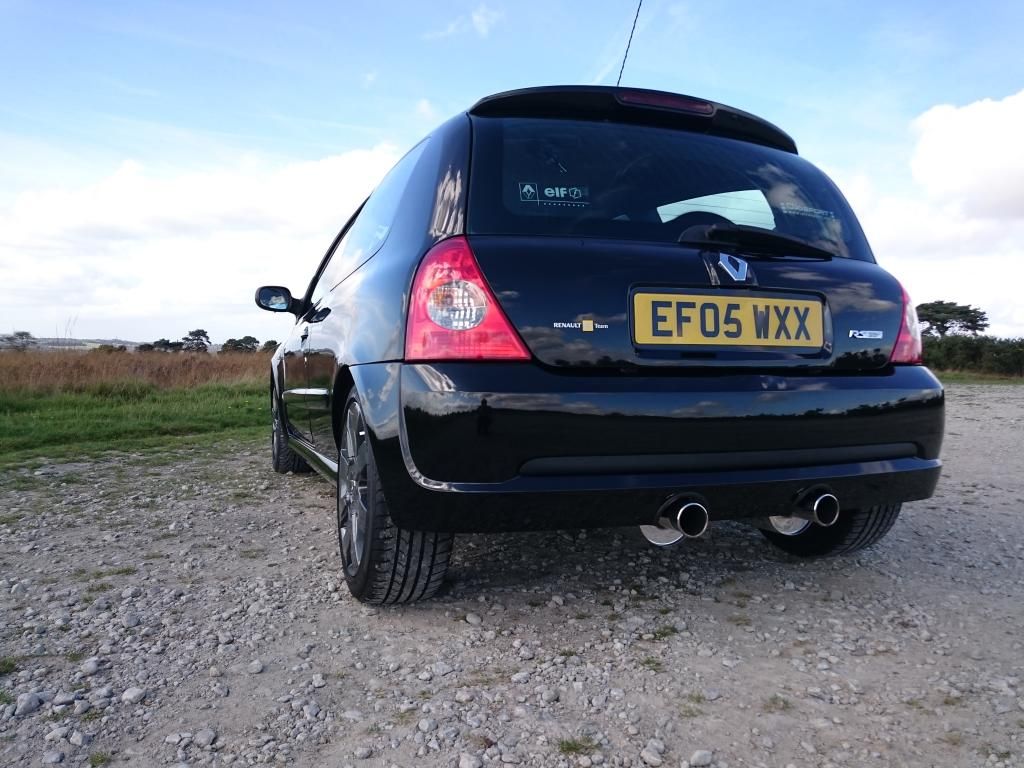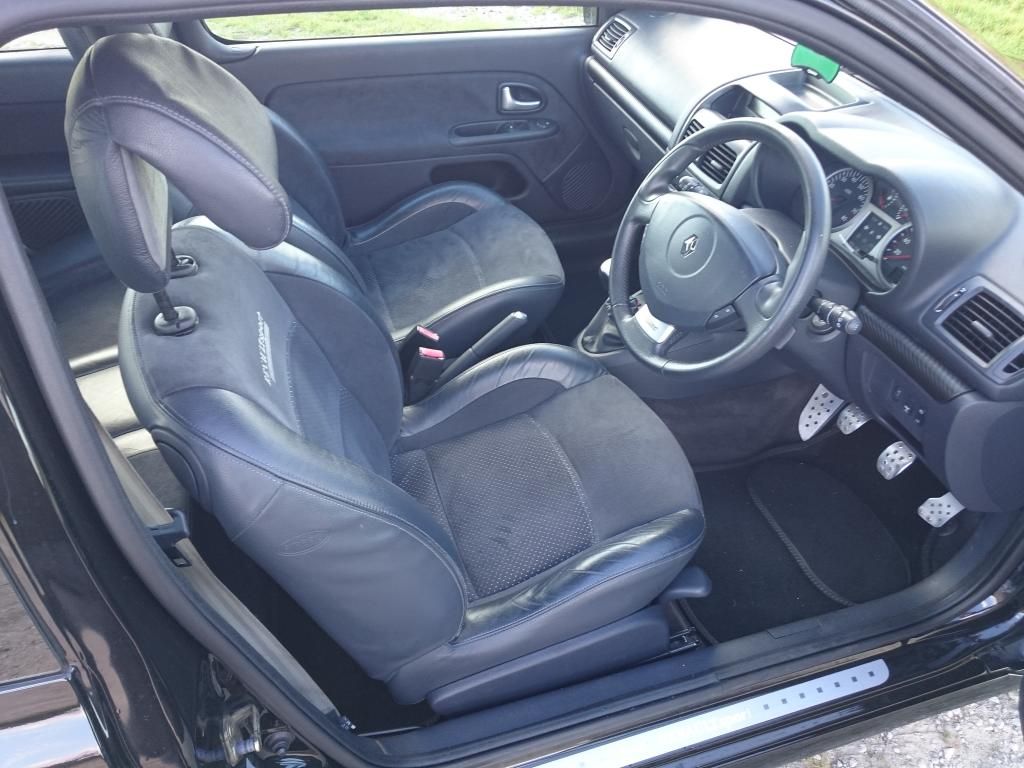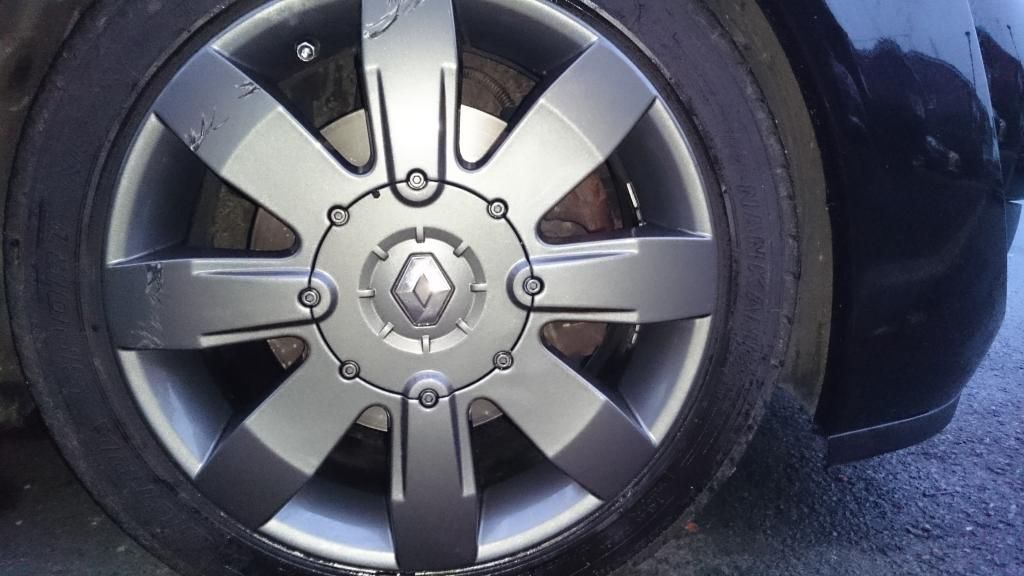 98700 miles at the moment but will increase slightly.
Cambelt in 2011
Serviced November 2014
In addition to an aftermarket exhaust manifold the car also benefits from a full custom stainless steel de-cat exhaust from Longlife, surprisingly quiet with a subtle sporty note. The majority of my miles are motorway and the noise isn't intrusive.
I have the catalytic converter which is easy to fit for MOT. The car was also remapped at longlife after exhaust was fitted.
I have the receipt for this.(£799.00)
Powerflow lower engine mount
Green cotton air filter behind front headlight,
Original airbox and papers filter included.
RS Tuner 98ron overrun map giving smoother idle and cold start behaviour, more responsive throttle, increased torque in Lower rev range, increased fuel consumption, increased rev limiter (7500rpm) and overrun pop and bang (only over 4500rpm)
Brand new Cooksport springs and refreshed Cup dampers enhance the car's responsive and agile character without making the ride crash or too firm. The ride height is slightly lower than standard but still very practical.
Yellow tint fogs, I can remove the tint if needed.
It has HEKO window guards fitted.
A quality aftermarket stereo with usb/iPod and aux connections freshens up the interior and a subwoofer has been fitted and wired properly from battery to boot. The original stereo will be supplied with the car.
The headlights have been changed to ones with black inside so looks better and because the old ones were fading. Have changed the standard sidelights to LED and recently put in two brand new osram headlight bulbs which look brilliant. Automatic headlights work. With this being the FULL FAT and with both cup pack from factory.
Cruise control and speed limiter with a traction control switch and electronics work as they should although the hazard light switch can be a bit tempramental.
The interior is non smoking and in fantastic condition with very minimal wear to drivers seat the standard silver strips across the dash have been carbon wrapped which is a subtle touch in my opinion.
The exterior is very clean and tidy and shines up brilliantly with minimal stonechips showing on front on bonnet. The gold flake in the paint is very subtle and looks stunning in the sun.
Exterior changes include a slightly deeper Skoda Fabia front splitter and the rear end has been freshened up with Renault F1 team decal and RS Renaultsport badge from Clio 200.
In 2013 the standard 182 wheels were refurbished and powder coated at a cost of £427.20. They are a slightly darker Antrecite to standard which I think suits it very well.
Front o/s wheel is curbed quite badly, pic below.
Extensive Service history
11.962 - 17-02-06
24.039 - 06-12-06
36.471 - 12-08-07
48.721 - 4-10-08
57.972 - 19-5-09
68.200 - 3-1-10
77.874 - 08-01-11 (cambet + water pump)
82.949 - 28-01-12
92.020 - 04-10-13
97.540 - 18-10-14 (plugs, cleaned injectors)
This had to be one of the cleanest Full Fat BG 182 and was bought after careful searching.
Bad bits,
Hazard switch works intermittently
Passenger seat airbag light switch under seat occasionally needs a wiggle when seat is moved fully forward due to airbag light.
Curbed wheel
£2650 or a deal on a S1 Rallye or S2, 8v or 16v
I have a daily car so no rush to shift this.
Full V5
Hpi clear
MOT march 19th 2015. No advisories.
No tax due to new tax Scam, I mean scheme.
No TIMEWASTERS or dreamers.
07988377966
[email]FoundTourManagement@gmail.com[/email]
Amin
________________________________________
Beef Beyond Belief