Post #1
Hi,
I think the time has come to say goodbye to my beloved 306 GTi-6.
We've had a lot of fun together, but it's time to move on as I find myself using it less and less.
The basic run down of the spec is:
1999 Peugeot 306 GTi-6 in Onyx black, 72,000 miles
Totally stripped interior
Lexan (plastic) windows all round
2 x OMP racing seats, with 3" OMP harnesses (All in date)
OMP steering wheel
Custom half roll cage
Innovate Wideband Lambda setup
Oil pressure gauge
Fire extinguisher
Battery relocated to the boot
Genuine Carbon fibre bonnet
K Sport adjustable coilovers with adjustable camber / castor
Built rear beam with 25mm torsion bars, hybrid arb, solid mounts etc
Adjustable drop links
Polybushed everything
Vibratechnics engine mounts
Electric power steering conversion
406 brembo front brakes with Ferodo racing pads
Brand new discs
Rebuilt 2.0 16v engine, with ARP rod bolts, ACL bearings and MLS headgasket
CatCams 106's, fitted and timed properly
Jenvey 45's with custom staggered length trumpet setup
Mapped and running on Emerald K6 ECU @ 214hp / 177lbft - rev limit at 7750rpm
Switchable mapping, 3 maps. 1 with wideband feedback (mot / fuel economy), 1 with "pops and crackles" and 1 for normal use.
16row Mocal oil cooler with thermostatic plate
Stainless exhaust with 200 cell sports cat, middle box and back box (nice and quiet!)
Uprated clutch
Solid, rose jointed, adjustable gear linkages
Quaife Limited Slip differential
Brand new drive shafts
2 sets of team dynamics pro race 1.2 wheels in 16". 1 with a nearly new set of Proxies T1r the other with BRAND new set of Yokohama A048rs
Various spares, replacement parts etc etc that I have taken with me to track days as pit items.
I am under no illusion this is a very specialist car - and as such it might not be everyone's cup of tea. This will inevitably mean that I will no doubt have to break it for parts - but please, for now, just leave this thread as people who would actually be interested in the car as a whole.
I have spent an absolute fortune on this car, both in terms of time and money - and I have receipts for everything I've bought... the build cost runs up to nearly £10,000.... It breaks my heart to sell it - but times change!
I'm asking a price I think is very very fair, £4500.
For the full build thread - see here:
http://306oc.co.uk/forum/thread-7436.html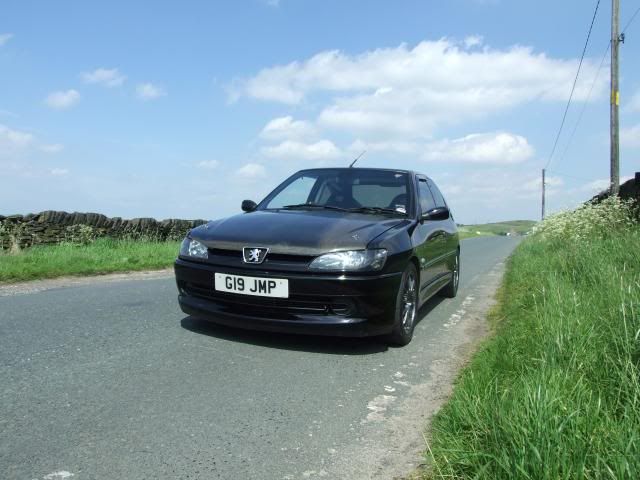 jammapic has attached the following image:

________________________________________
HDI Engine Tuning / Remapping Services - http://www.facebook.com/dervtech
306 GTi-6 Track Car - 200+ hp all N/A!
306 DTurbo Track beasty - 209.9hp - RIP