Post #1
Well after selling the car about seven years ago, I bought it back a couple of months ago and have been on a spending spree since getting donor vehicles to get it to how it was before with a few bits that will make it even better.
Some of the older members may remember it from back in the day, it was a fully completed car with tax and mot and I used it as a good weather toy
i sold the car to Robert after he offered me a great price to sell, I never had it advertised but he was very persistent and had offered me a good deal, I let it go and set up my own business with the money but have to say I regretted it ever since. The car has undergone some great changes and now has a full roll cage, better floor design, new gearbox tunnel and a lovely carbon fibre rough, I bought some of the parts with the car like all rose jointed suspension and wrc uprights, the engine I couldn't afford to buy back it was a 2.2 yb (cosworth lump) cabable of 800 bhp, the engine alone is worth £30k so I had to leave that and the gearbox, a proper Rallye style unit.
This is how the car sits at the minute, on a jig-
Since buying the car back minus a few of the important bits I needed to find myself a donor, I knew the sierra cosworth running gear would all bolt up and I could use the gearbox, engine front and rear diff and the loom and ecu, I tried to find these parts separately but this little lot was about £5000 to buy separately. I then started to browse that famous auction site looking for either damaged sierras or rotten ones and was shocked at what they made, I eventually stumbled across one and got it for £4k, minus any tax and mot (yes they really do make that money). On arrival it really didn't look anything special and it took us a while to get it stated but once we did and I took it for a shirt drive it did everything well and with the engine literally 40 miles previous being rebuilt albeit two years ago it was ideal, it was loaded up and it's sat waiting to die now.
Son loved it any way ha ha (grumpy git)
The money shot
since then it's been parked on the front waiting for well time to pass me by and it rots away, no I need to get some enthusiasm and get started stripping the sierra down of all the bits I require and clean them up, re plate them where needed and add some fresh paint etc and transfer it over to the 106.
Well I have been gathering parts etc and knew I would need all the glass for the 106 and also various trim bits and clips and was just looking for a knackered 3 door 106 on that famous auction site and stumbled on a gold 106 xs, yes a 2 owner car with 40,000 genuine miles, it sounded to good to be true, I arranged to collect and turned up to be shocked that it's mint, the original 106 dimma started life as an xs so all the trim is ideal, thing is I have grown attached to the gold one and have been using it for my own transport for the last two weeks, it really is a gem.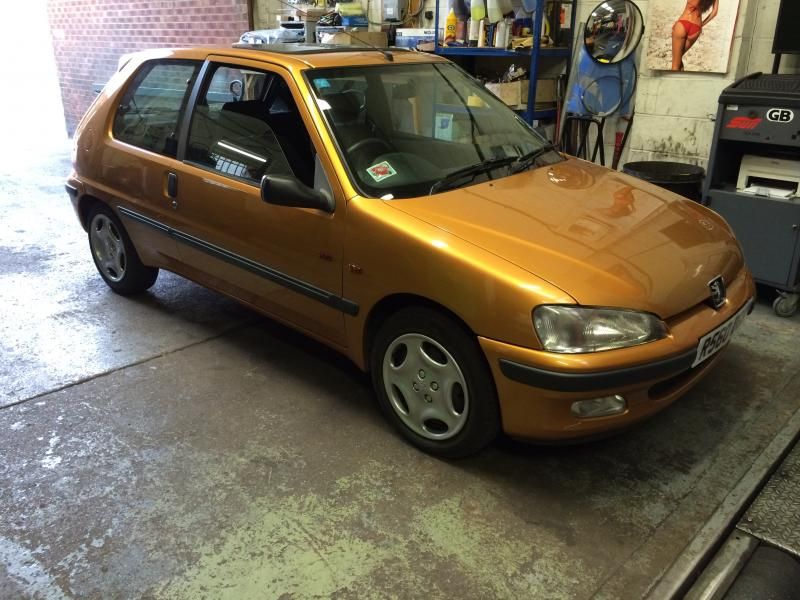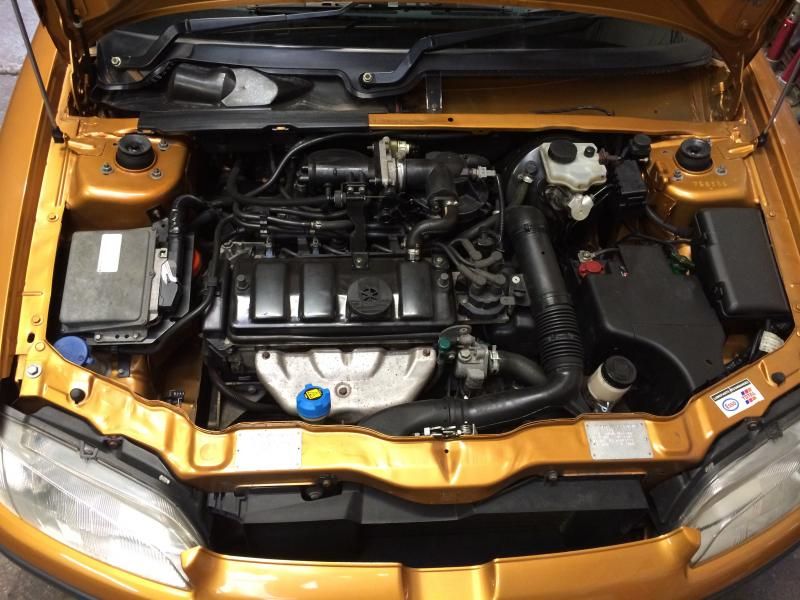 Yes the car really is that clean, it reminds me back in the day when I bought a brand new 106, it drives that nice.
keep your eyes peeled, will update as things progress.
many thanks, Carl
________________________________________
C.G.Cars of Leicester, Peugeot/Citroen/Renault specialist Tel: 01162 624498/07799 405184
WWW.CGCARSLEICESTER.CO.UK
36 narborough road south, Leicester LE3 2fn
MOT station now open, tests £35 with a free retest.
Recovery available with a recovery unit, for those not so local jobs
Also offer the loan of a free courtesy car 306 dturbo